Spoiler alert!!
In a nutshell... I like it! In fact... I like it a lot!
But I have to admit... I was kinda nervous for a few days as I drummed up the courage to finally hit the upgrade button. To my surprise, the leap from Ghost 3.0 to 4.0 was not only bug free, but replete with a bunch of improvements that I wasn't expecting.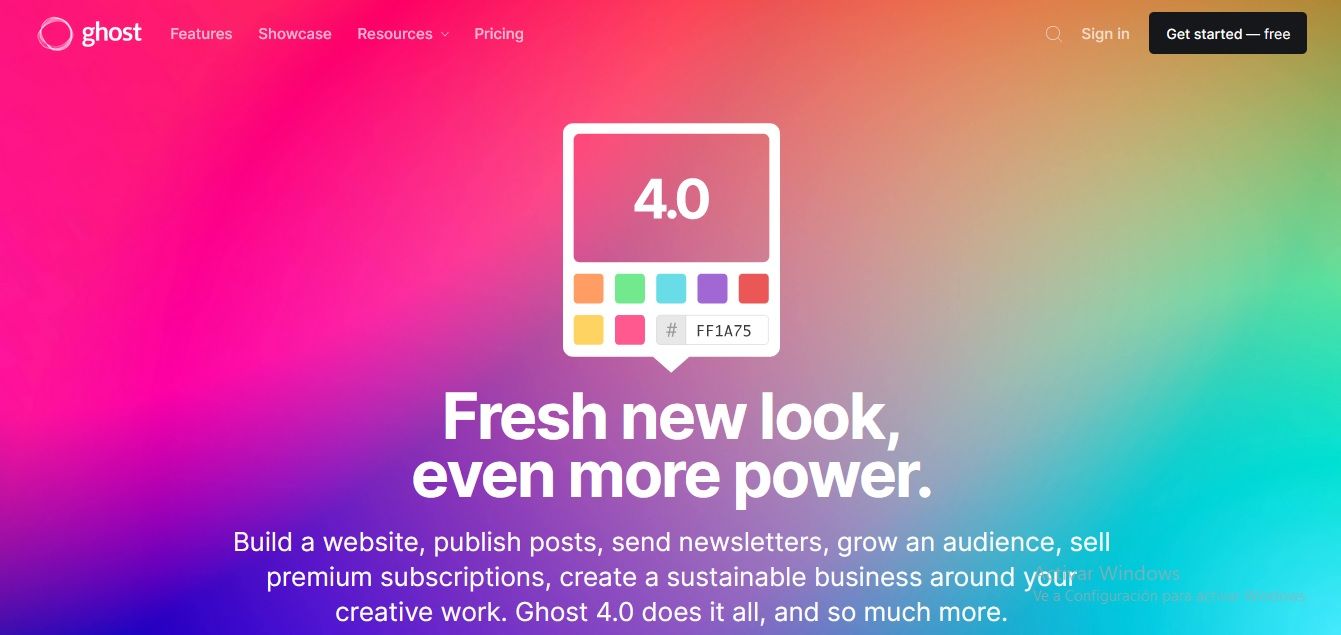 Is Ghost 4.0 the best blogging platform?
It may not be the most utilized – WordPress is still the most popular blogging platform – but as soon as I started using Ghost, I felt at home. There was no way I would go back to WordPress. There was no need to look for a better blogging platform. From what I could see, Ghost was perfectly positioning itself to become the best blogging platform in the world.
So what makes Ghost 4.0 such an improvement over previous versions? Lets see what the Ghost team promises in their own words...
Build a website, publish posts, send newsletters, grow an audience, sell premium subscriptions, create a sustainable business around your creative work. Ghost 4.0 does it all, and so much more.
Sounds good right? Everything a pro blogger could possibly want all in one beautifully laid out, easy to use product. If only all software had this attention to user satisfaction. I can safely say that Ghost 4.0 is the most satisfying software I have ever used. The latest improvements, fixes and upgrades just refine the experience even more.
Take the dashboard for example...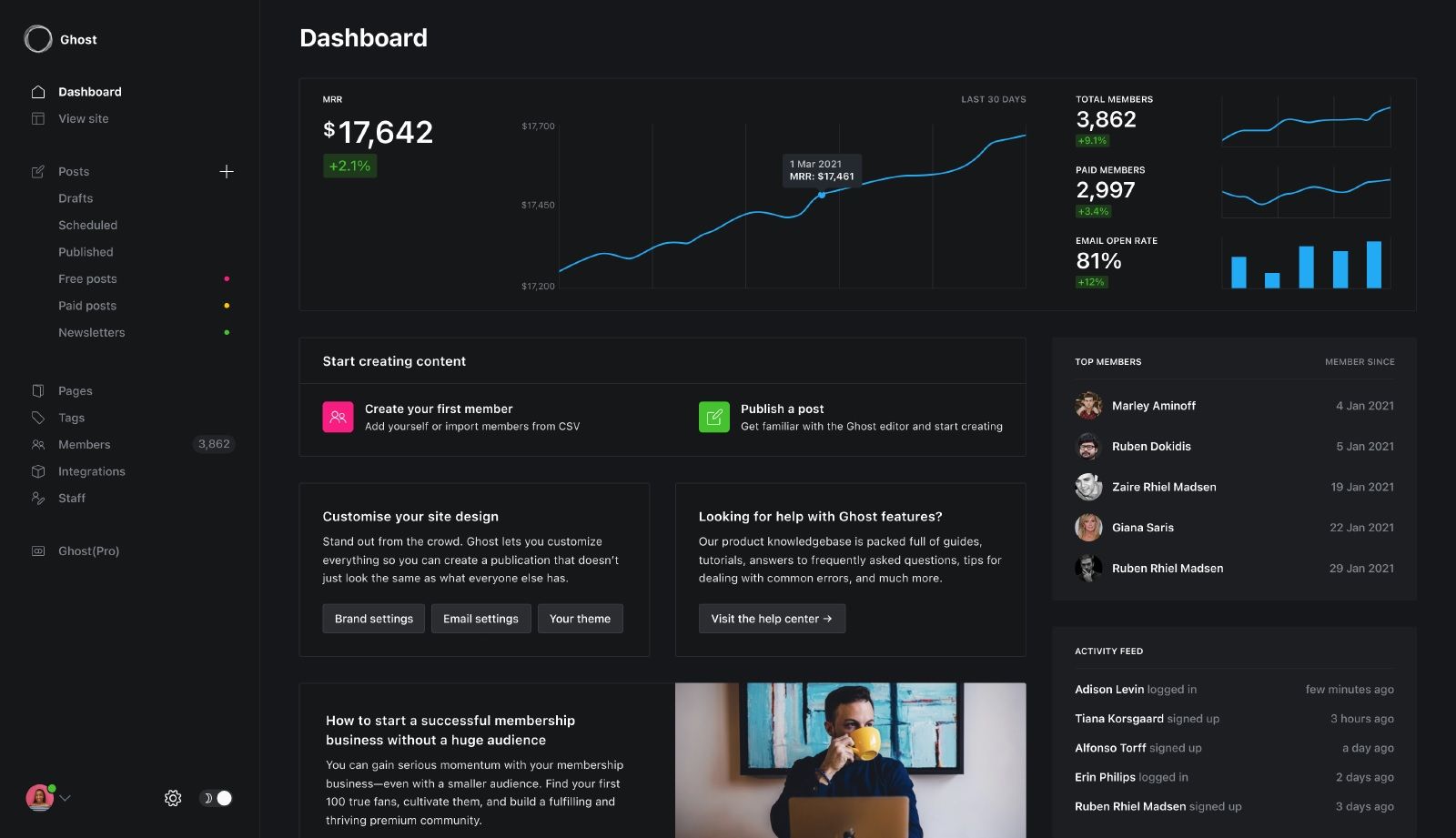 With your blog monetization system built in to Ghost 4.0 in the form of membership subscriptions, you'll never be flying blind as you build your blog, your audience, and your business.
Every time you open the control panel, you're greeted by the latest stats such as paid members, email open rates, and how much you've earned to date. In the left hand navigation panel you can access all the functionality of your site, as well as settings, and Ghost Pro account features. Incredibly neat and efficient.
Some of the beginner recommendation panels in the central column should change over time as more updates are applied. One of the more useful links further down the user interface is the Ghost Creator Community invitation where you can join other Ghost business builders to swap strategies and get valuable advice.
Native Themes And Analytics
I'll be honest with you... I've never understood why it was a good thing to have thousands of blog themes to choose from when creating a blog... especially for beginners or intermediate users. Quality over quantity should always prevail. And from a design perspective, simplicity and usability must always win over complexity and the feeling of being overwhelmed.
The Ghost blogging platform offers more than enough beautiful, elegant themes to satisfy all kinds of needs. I certainly scrolled through hundreds of free and pro themes when starting out, but none of them improved on the basic functionality of Casper – the Ghost default theme – which also underwent a major upgrade after the Ghost 4.0 update.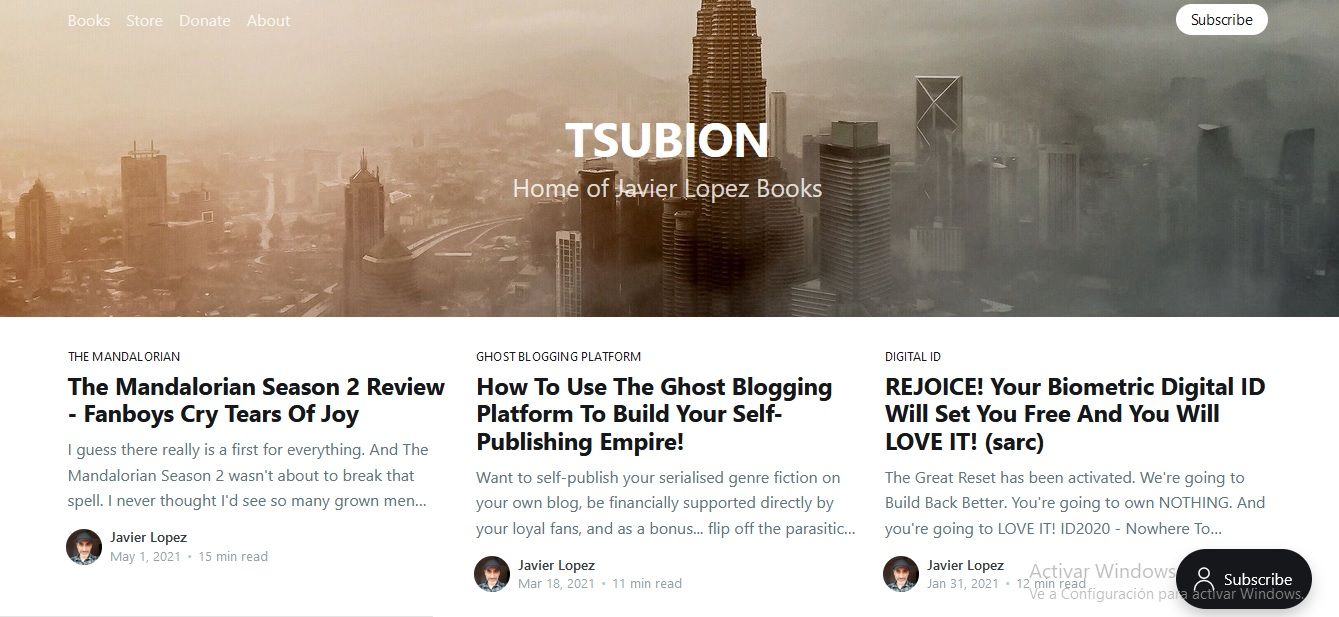 Since my decision to fully incorporate the Ghost membership system into my business plan, I reached a point where I thought I may have to switch to the Lyra theme to make use of the integrated sign up system. Fortunately, the Ghost team came up with Portal which allows all themes including the wonderful Casper to seamlessly integrate with the membership system. I have to say, I was extremely impressed!
I also welcomed the much needed updates to the Casper theme itself. It looks gorgeous now, with a fully functional footer area including related posts and a customizable nav.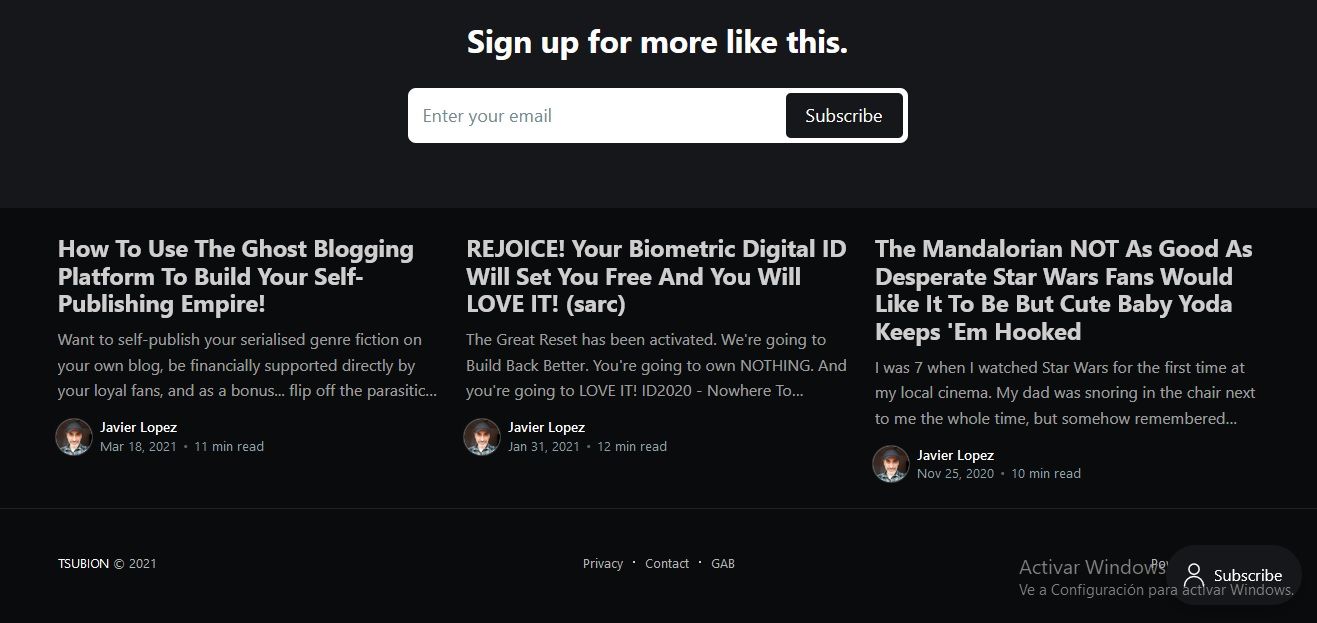 Analytics is also now fully integrated into the back end so that you can keep a track of your blog and newsletter stats at a glance.
Understand what's working. Native engagement analytics so you can understand what content is getting the most attention, and who your biggest fans are.
Advanced Creator Tools that are so slick and powerful you'll feel like a pro from the get go...
Publish by web & email newsletter. An editor built from the ground-up for professionals. Calm by design, with advanced workflows by default. No more suffering through clumsy toolbars or drag & oops. Immerse yourself in the story with an interface that's invisible until you need it, and powerful when you do.
Powerful Integrations allow you to customize your blog enabling the full range of functionality that you desire...
Referral programs, push notifications, social sharing, payment gateways, A/B testing, desktop editors, mobile apps, comments.
Re-usable Content Snippets make it incredibly easy to store useful repeatable elements in a way that makes them accessible during the creation of posts from anywhere in the editor.
Save any content in Ghost as a re-usable snippet. Forget media galleries. It's an everything gallery. Images, quotes, post outlines, embeds, whatever you use most.
According to the Ghost team all of the following have been given a boost too...
Better performance. Better SEO. Better structured data. Better theme options. Ghost 4.0 is the biggest update we've ever shipped as we continue to build a platform for the future of distributed, independent publishers. Don't settle for centralized. Own your future.
And I concur that the more I use this platform and grow comfortable with the idea of running my own content creation business, I feel more and more reassured that I made the correct choice when I signed up for managed hosting with Ghost Pro.
I feel like I'm in the driving seat and in full control of all aspects of content creation, SEO, paid member management, stat tracking, and much more, all through one gloriously simple user interface.
More Affordable Than Ever
They've even made it easier to get started now with an entry level base plan starting at just $9 per month. This makes it far more comfortable for bloggers to run with things while they build out their site and wait for the first batch of paying members to sign up. When traffic hits the big time you just slide up to the next level of support at around $29 per month.
Want to take a closer look at what may be the best overall blogging platform that instantly unleashes your full potential as an online entrepreneur?
Check out the all new Ghost 4.0 blogging platform by signing up for free at the following link...
---
Your support keeps this train on the rails! Please consider making a Donation or checking out the Store. Thanks!